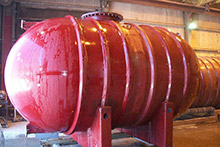 If you're searching for fiberglass products, Fiberglass Tank & Pipe Institute may offer more help than you would expect. This site is for anyone with an interest in the fiberglass RTP industry. We serve as an online forum to share industry information, promote premier companies from manufacturers to distributors, and educate all visitors on fiberglass as a leading material and its use in a variety of applications.
Whether you need quality fiberglass pipe, tanks, or fittings, we can point you in the right direction. Click on our Members page to browse affiliate suppliers. If you're looking for top-rate products, premium service, and a quick delivery, all for an affordable price, your best bet is within this collection of the industry's finest companies. Each one meets our strict guidelines and specializes in their part of the equation. From the design to the installation, every step of the process could be covered with our affiliates. Even the most arduous of applications are no concern.
When it comes to knowing what products you need for your operation, these companies can guide you in selecting the right specifications. In this case especially, it's important to work with a distributor who has a trusted product and the experience. Once your order is complete, you'll have a system that performs reliably and successfully. Have your parts delivered right to the jobsite.
We are happy you're pursuing the use of fiberglass products in your pipe and tank solutions. Whether you've worked with this superior material before or have yet to make the switch, we'll be the online resource you need. If you have a question about industry standards or want to compare fiberglass to traditional materials like steel, browse our site or contact us directly. Allow us to make the adjustment an easy one for you. Your jobs will be better for it.