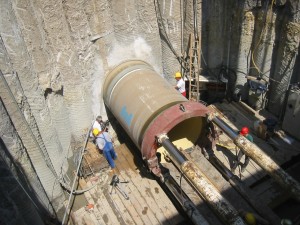 Are you interested in learning more about FRP products and the benefits they could afford to your company's applications? Whether you're currently using traditional piping materials or fiberglass, we invite you to browse our site – explore the different uses, check out our Fiberglass Tank & Pipe Institute members, and study the white papers if you have a specific question that they address. Let our online resource make a difference in your industry procedures.
Fiberglass reinforced plastic products are an essential component of pipe technology. If you have yet to work with them, see for yourselves today. Your assessment of them will mostly be a reflection of the manufacturer, as with any product purchase, which is why we endorse a select few of the existing companies. If you partner with one of our featured members, you'll have a commendable experience with whatever FRP products you need. In the grand scheme of things, there isn't an endless supply of FRP options. Likewise, the available options aren't all reliable. We've already done the research for you; the companies who can handle your storage needs and offer you solutions unlike the rest are listed on our site.
From basic panels to customized composites, you'll find just enough options to ensure you end up with the right fit. A number of industries are incorporating FRP into both small and large-scale projects alike. There is no place they don't belong. Chances are if an FRP product is suitable for a need, it's the superior selection. It's typically low in cost, high in value, easy to use, and multipurpose.
Successful businesses are built on smart business decisions. Utilizing FRP products is a smart business decision across many trades. It's a change you'll surely embrace for years to come. For those who are already familiar with FRP products and incorporating them into their applications, let us support you in your productions. Our site is for you.