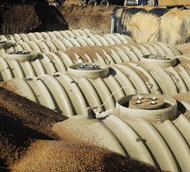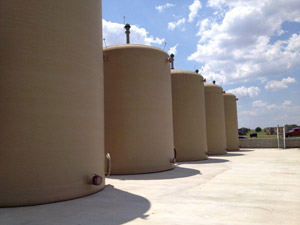 General:
Fiberglass tanks are built to last. FTPI's member tanks are designed with the latest technologies and manufactured under the strictest industry guidelines to meet a variety of needs.
Using advanced technology for fiberglass production, FRP tanks offer reliability, corrosion resistance and advanced engineering designs for both aboveground and belowground storage tanks.
UL Listed single-wall and double-wall construction are available for many industries. Double-wall tanks can accommodate a wide array of high-tech electronic leak monitoring and stored product control equipment.
FRP Underground Tank sizes range from 285 to 50,000 gallons in capacity, and from 4 to 12 feet in diameter and 6-1/2 to 73 feet in length.
Aboveground tanks are ideal for:
Acids
Caustics
Solvents and Corrosive fluids in petroleum production, chemical, pulp and paper, and other industrial applications
FRP Shop Fabricated Aboveground Tank sizes range from 40 to 60,000 gallons in capacity. Field erected sizes are larger.
Environmentally Safe
Will Never Rust
Durable Long Life
Underground Tanks are ideal for:
Gasoline
Jet Fuel
AV-Gas
Motor Oil
Kerosene
Diesel Fuel
Alcohol-Gasoline Blend Motor Fuels
Diesel Exhaust Fluid (DEF)
Ethanol-Blend Motor Fuels
Methanol Blends
Oxygenated Motor Fuels
Water & Septic
Any Gasoline/Ethanol Blend, including 100% Ethanol, Methanol or M85